Asphalt Batch Mix Plant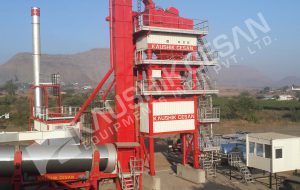 Kaushik & Cesan is a joint venture between Kaushik Engineering Works and Cesan A.S. to serve their global clientele with outstanding engineering, manufacturing and production services
Ahmedabad (India) based Asphalt and concrete plants manufacturer Kaushik Engineering Works has recently cemented a strategic technical collaboration with a Turkish leading mobile and stationary asphalt plants manufacturer CESAN A.S. to further strengthen its products range by manufacturing Asphalt batch mix plant of higher capacity and global standard in India under the banner Kaushik Cesan Equipments India Pvt Ltd.
Kaushik has been operating with great success in the Indian market since 2000 and frequently increasing its production capacity and geographical presence. Its recent tie-up with Turkish company is an icing on the cake with which it aims to increase its manufacturing capacity and capability as Cesan world-standard products are in great demand both in the country and abroad.
On this partnership, Mr. Saumil Shah, Director, Kaushik Cesan says "Our cardinal objective is to serve a wide array of industries with low cost, reliable, and high quality machines. Further, in our endeavor to serve our clients with global quality products, we have collaborated with CESAN A.S. to manufacture Asphalt batch mix plants in India whose demand is growing faster in the country. Through this JV, we will manufacture the plants in various designs and capacities ranging from 45-3000 tph depending upon the customer needs and demand. Our first Indian manufactured Asphalt batch mix plant is ready to be displayed at bC India."
Elaborating on the features of this global standard product he apprises, Kaushik-Cesan Asphalt batch mix plants are designed for maximum efficiency and minimum operation cost. The plant can reduce energy consumption, greenhouse gas emissions and improve efficiencies by reducing fuel consumption with its completely self-designed dryer which operates in basic principle heat transfer to the aggregate. For each tonne of asphalt a minimum 1 litre of fuel can be saved.Any sort of liquid (fuel-oil, diesel) natural gas or LPG can be used in the asphalt plants. Operating cost is low because of low energy needed, optimized fuel consumption, long life of system units and minimized maintenance needs. The operation of the plant can be controlled continuously through the computer monitor on the operator table manually, semi-automatically and automatically. Apart from these, modular structure of the products provides easy erection and replacement in a very short time."
Furthermore, the plants are safe with respect to noise, dust, and heat. It is environment and user-friendly. Dimensions of the units are designed as they are convenient to the global road transporting gauges. It is improved for fast dismantling and reassembling. Affordability, end product consistency, cost efficient production rates, user-friendly operations and simplicity of erection are some of the driving factors and USPs of the plant," he affirms. Mr. Shah says, "Our commitment to finest quality service delivery makes us one of the most renowned construction, production and manufacturing companies not only in India but also across the globe. The purpose behind the JV between the two entities is to serve the global clientele with outstanding engineering, manufacturing, and production services."
Technical Information
PLANT TYPE
KC 80
KC 120
KC 160
KC 200
KC 250
KC 300
KC 400
Cold Aggregate Silos Silo capacity (m3)
8, 10, 12, 15, 20 m3
feeding width is up to 650 mm, dosing with frequency controlling

Collecting Belt
Width (mm)
Length (mm)

500
650
650
650
850
850
850
varies according to the number of silos
Inclined Belt Width (mm)
500
650
 650
650
850
850
850
 Dryer Diameter (m) Length (m)
1.60
1.08
 2.00
2.20
2.40
2.40
2.70
8.00
8.00
 8.60
9.00
9.00
10.00
12.00
Sieving Machine
4, 5, 6 decks
Hot Aggregate Silos Capacities(tons)
4,5 divisions
9
20
20
25
25
30
30
Aggregate Weighing Capacities (kg)
1250
1500
2000
2500
3000
4000
5000
Filler Weighing Capacities (kg)
150
200
200
250
300
400
500
Bitumen Feeding Capacities (lt/sn)
6
6
10
10
15
15
20
Mixer Capacities (kg)
1000
1500
2000
2500
3000
4000
5000
Automation
Kaushik Cesan Automation System
Bitumen – Fuel Tank Capacities(m3)
20, 40, 50, 60
Thermal Oil System x1000 (Kcal/h)
500
600
750
1000
1000
1000
1000
Electrical Heating
For all capacities, can be produced in variable capacities regarding to your requests.
Kaushik Cesan, reserve the right to make technical modifications without prior notice.